As tragic events continue to unfold in Ukraine, many Americans are looking for ways to help. Over the last several weeks, we have seen many stories of NGA member companies like SpartanNash donating $1 Millon in support of Ukraine and Harvest Market creating a "Sunflowers for Ukraine", with 100 percent of proceeds being donated to Ukraine through a partnership with Rotary International and the Rotary Club of Starnberg, Germany. Due to the generosity of their customers, Harvest Market sold out of their sunflowers in less than 24 hours. The funds will be used to help Ukranian refugees and provide medical aid. We see that companies and their customers are willing to help if provided with the proper resources and connections to establish a partnership.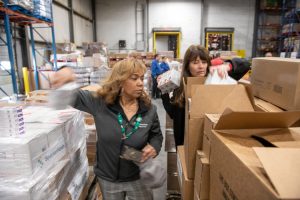 With that in mind, NGA has gathered resources with guidance from the Embassy of Ukraine in Washington D.C. to help Ukrainians in desperate need of food, water, and other essential items.  If you would like to learn more about how your business can help, below are specific organizations provided to NGA by the Embassy of Ukraine:  
Meest

(Meest is a logistics provider that serves Eastern Europe assisting with the coordination of the delivery of products to the Ukrainian people.) 

 
Additional Organizations 
Contact NGA 
If your company has already been helping with aid and relief efforts or if you are about to begin, please inform the NGA team by filling out this survey: https://www.surveymonkey.com/r/grocersUkrainesupport   
We want to aggregate the support from the independent grocery community and share the story of your generosity. 
Thank you in advance, please contact NGA with any questions at communications@nationalgrocers.org.