The NGA Foundation has once again announced this year's round of scholarships that will be awarded to various students throughout the country that either work or have an interest in the supermarket industry. Preparing today's students for the challenges of tomorrow is essential to ensuring the supermarket industry continues to prosper. These students represent the very best of our industry. Learn more about them below:
Jake Frye Thomas K. Zaucha Asparagus Club Scholarship
Jake is a senior Food and CPG Marketing Major at Western Michigan University and has been on the Executive Board for the Food Marketing Association for the past year, holding positions such as Social Events Director and Internal Recruiting Director. In his junior year, Jake won two case studies in his Food and CPG class with Constellation Brands and E&J Gallo Winery.
"Winning this scholarship means the world to me. I love my program at school and the association directly linked to it. I have been on the executive board for the last year. I have struggled all through college to figure out how I was going to pay for everything with all of the school and living expenses while being a full-time student, but this scholarship goes a long way in helping me get my degree."
Allison Buckingham Asparagus Club Scholarship
Elizabeth works at Perelandra Natural Foods in Brooklyn, New York as Vice President of Operations, overseeing all strategic planning. She is pursuing her PhD in behavioral nutrition at Teachers College, Columbia University.
"Winning this scholarship will help me continue to learn about nutrition, determinants of eating behaviors and the food system, which I'm very passionate about. Continuing my studies will further enhance my ability to be successful in a highly competitive industry."
Dana Kelly Bob Richardson Legacy Scholarship
Dana is a National Account Manager at the JM Smucker Company and is pursuing her MBA from Boston College.
"This scholarship will allow me to continue down my path to an MBA, which will help me to develop the skills to be a future leader in the supermarket industry."
Garret Gardener Asparagus Club Scholarship
Garret works at UNFI as a Sales Analyst and is pursuing an MBA at Niagara University where he received his bachelor's degree in marketing with a concentration in food and CPG.
"I have only been a student of this industry for a few years, but it has already begun paying off dividends. I can tell that everyone in this industry is truly invested in the future. This scholarship will be used to help me not only obtain my MBA in strategic marketing, but provide me with an even stronger foundation to make positive impacts in the food industry."
Kobi Coleman Roger Collins Leadership Scholarship
Kobi works at Pruett's Food, Inc. and is a student at Southeastern Oklahoma State University pursuing a business degree.
"Winning this scholarship will impact my career by allowing me to continue my degree of my dreams. It was also impact my career by helping me graduate debt free."
Samantha McGrath Asparagus Club Scholarship
Samantha is currently a student at Western Michigan University and President of the Food Marketing Association. Samantha has completed internships with E&J Gallo Winery, Busch's Fresh Food Market, as well as two international food marketing courses abroad.
"This scholarship allows me to have a solid base as I complete my senior year, giving me a strong start as I enter into the food and consumer goods industry. My extracurricular and work experience from externships and internships ignited my passion for the future. My aspiration is to always continue to be a student, keeping up with the exciting and continuously evolving food market. Ultimately, I want to help others by continuously learning, growing, and making a difference in the world."
Kylee Schultz FMS Solutions Legacy Scholarship
Kylee is a student at Niagara University studying marketing with a concentration on food and CPG and works for Wegmans as a Service Team Leader.
"This scholarship will impact my career by allowing me to focus on my studies and continue to take advantage of extracurricular opportunities related to the food and CPG industry. Additionally, it will provide extra support as I pursue the necessary knowledge to make a difference in the lives of others through marketing of products for a business and for individuals who are looking for increased knowledge of nutrition for their personal health."
Dymon Saunders Kimberly-Clark Corp. Legacy Scholarship
Dymon works at Food Lion and is a finance major at Old Dominion University.
"Winning this scholarship will impact my career by showing me that anything is possible and will push me to work even harder to be successful in the future."
Tiffany Crandell Women Grocers of America (WGA) Mary Macey Scholarship
Tiffany has worked in retail management for over 20 years and in the food industry since 2007, where she was a cashier for Bashas and quickly moved up within the company. She is currently working at Mars Wrigley and has been positively recognized for merchandising excellence.
"Winning this scholarship impacts my career by giving me the knowledge to clearly understand the food industry and what an impact it has worldwide. The knowledge I gain will deliver results in many aspects of my career."
Sydney Decker Peter and Jody Larkin Legacy Scholarship
An avid chef and baker, Sydney has worked on two farms, in three gardens, one café, and one grocery market. This summer, she organized and ran a farm stand for an agricultural center. She has a passion for reducing plastic and food waste within the American grocery store system.
"Long term, this scholarship helps me ease the financial aspect of my college education, so I will be able to relax and focus more strongly on pursuing the impacts that I hope my future career will have on the grocery industry, rather than focusing that energy on money. Winning this scholarship makes me feel confident and motivated."
Tina Moore Asparagus Club Scholarship
Tina works at Nugget Market as a Corporate Kitchen Support Coordinator and is a student at Sonoma State University. She started her career as a courtesy clerk in 2007 and since then has held various positions, such as checker, cake decorator, bookkeeper, and front-end manager.
"While I only have one year left in my B.A. program, entering into a master's program would not be possible for me without this incredible scholarship. I am so inspired by the leaders in my company that have invested in their education, and now I will be able to follow a similar path in hopes of making the kind of impact they have."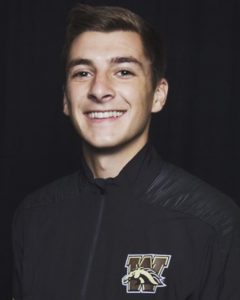 Jake DeJulio Mondelēz International Legacy Scholarship
Jake is a graduate student at Western Michigan University, completing his master's degree in business administration. Jake is determined to have a strong impact on the food industry with a diligent work ethic, combined with an innovative mindset to solve the industry's most pressing issues in the future.
"Winning this scholarship further motivates me to positively impact on one of the most important industries today. Additionally, winning this scholarship is a culmination of hard work and determination, which are two important traits to a successful career within the food industry. I hope to make as large an impact on the food industry as this scholarship has had on me."
Jenny Le and Meagan Hauser Fiserv Technology Legacy Scholarships
Jenny Le is pursing her MBA in marketing and finance at Columbia Business School and is interested in working at the intersection of grocery retail and technology. Jenny previously worked in food service sales at General Mills.
"It's an immense honor to receive the Fiserv Technology Scholarship. This scholarship will help me continue my education on grocery retail and technology as well as assist in the cost of a graduate education."
Megan started her career in the Management Development Program for Mondelēz International. After completing the program, Megan held various roles in category management, insights, and distribution. She expects to complete her MBA from the Marshall School at the University of Southern California in 2021.
"This scholarship will help me be able to focus on what I'm passionate about. It will allow me to become the leader I want to be. I'm passionate about helping the industry transition into the new digital world. I want to be able to lead the charge, and I wanted to come up with innovative ways to guide the grocery industry. I want to fortify the notion that women in business can be leaders who can create change for good."
Natalie Regula Asparagus Club Scholarship
Natalie is a student at the University of Findlay, studying financial accounting and minoring in finance and marketing. She plays for the women's varsity volleyball team and works in an on-campus business agency called The Oiler 10, where she gets to work with companies across the nation.
"Winning this scholarship will allow me to continue my education at the University of Findlay. I feel that my degree will provide me with the tools I need to be able to bring new ideas and inspiration to independent grocery stores. I look forward to using my degree to positively impact my community after graduation."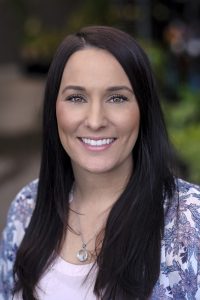 Chelsea Cubero Charlie and Becky Bray Legacy Scholarship
Chelsea is currently the District Merchandising Manager for Fred Meyer in the Greater Seattle Area. She has been recognized by Progressive Grocer as one of the "Top Women in Grocery" and is a graduate of the USC Food Industry management.
"This amazing opportunity means that I am able to participate in a master's program that is one of kind with the emphasis it had on the food industry. It means a great deal to me to have this financial support as I work toward my educational goals."