By Eric Payne, NGA Manager of Communications
Independent grocers have always given back to their communities, taking the time to participate in food drives, fundraisers, and other charitable causes helping members of their community needing a helping hand. Even during the COVID-19 pandemic, while independents are on the front lines, tirelessly serving communities across the country , they are still finding the time to give back – here are a few examples I've seen over the last two months.
Nugget Markets Supports COVID-19 Antibody Testing
Nugget Markets has partnered with the American Red Cross for years, aiding in a variety of relief efforts. During the COVID-19 pandemic, the American Red Cross is making blood donation and collection as safe as possible, focusing on antibody testing as part of their strategy. Antibody testing is essential for health officials to understand the virus and slow its spread and Nugget Markets is committed to assisting the American Red Cross in this part of their mission.
Learn more about Nugget Markets contribution here: https://bit.ly/3h8sljT
ShopRite Donates to Veteran Families
ShopRite recently donated $250,000 to the Committee for the Families of War Veterans, an organization raising funds for current soldiers, returning veterans, as well as the families of soldiers killed in combat.
ShopRite VP of Operations, Tom Urtz, said the following about the donation:
"Supporting our local veterans has always been an important cause to our ShopRite team. We are proud to present this donation to The Committee for the Families of War Veterans who do so much good for our veteran community and express our sincere gratitude to everyone who helps makes it possible to support these worthy causes."
Learn more form the Warwick Advisor here: https://bit.ly/3heHeBC
82,500 Pounds of Food Donated to Operation Food Search
With the help of customers and community partners, Dierbergs Markets donated 82,500 pounds of food to Operation Food Search, a non-profit organization dedicated to ending hunger in the St. Louis area.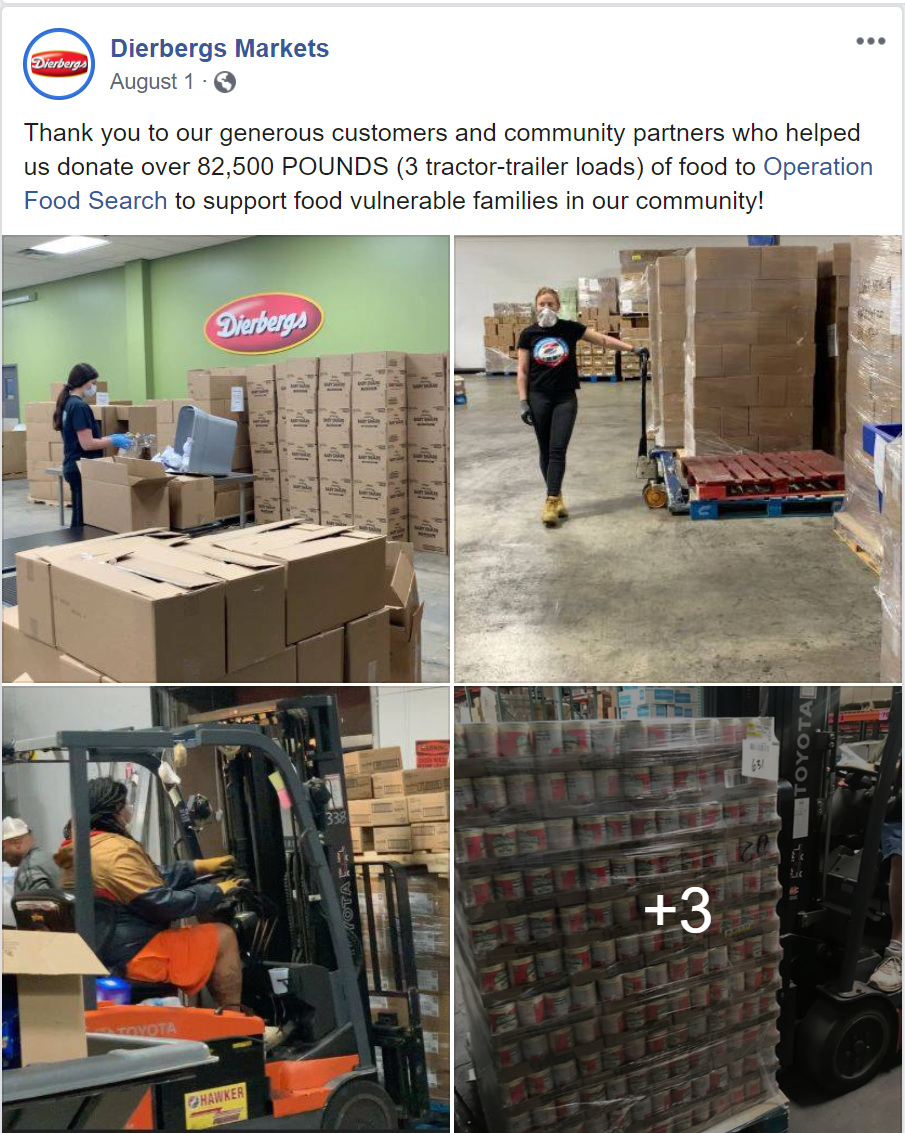 Click here to learn more.
Grocery Outlet Raises $4 M to Fight Hunger
In its 10th annual Independence from Hunger Food Drive, Grocery Outlet customers raised $3 M to fight hunger in communities with Grocery Outlet adding an additional $1 M. Progressive Grocer reports more than 350 Grocery Outlet stores participated in the food drive between June 24 and July 31.
Grocery Outlet CEO Eric Lindberg said the following about the annual drive which helps so many:
"We are extremely proud to support food agencies in our back yards across the nation, raising over $11 million since the campaign began is a big milestone we've reached. To celebrate Independence from Hunger's 10th year anniversary, it was important to augment the great work our Independent Operators do with local partners, as a company we're excited to contribute $1M to match their efforts." 
Learn more from Progressive Grocer here: https://bit.ly/3azfhSc
Strack and Van Til Donates $6,298 to Habitat for Humanity
Last month, Strack and Van Til in Portage, Indiana, presented a check for 6,298 to Habitat for Humanity – the money was raised by customers rounding up their purchases.