By Caitlin Paynich, M.S.
This article originally appeared in the University of Findlay's summer edition of Findlay Magazine.

Everyone goes to the grocery store. Picking out produce, grabbing some milk and figuring out what to buy for dinner are routine tasks for most people, but have you ever thought about how groceries are marketed or how stores target different demographics? These are the questions four College of Business students from the University of Findlay faced as they prepared to compete in the Student Case Study Competition at this year's National Grocers Association Show. Graduating seniors Catherine Schnipke '17 and Rayan Alghuraibi '17 and sophomores, Tyler Adkins and Natalie Swift, traveled to Las Vegas for this trade show for the independent supermarket industry along with Eric Stoller, assistant professor of sport and event management at the University of Findlay, who acted as their faculty advisor.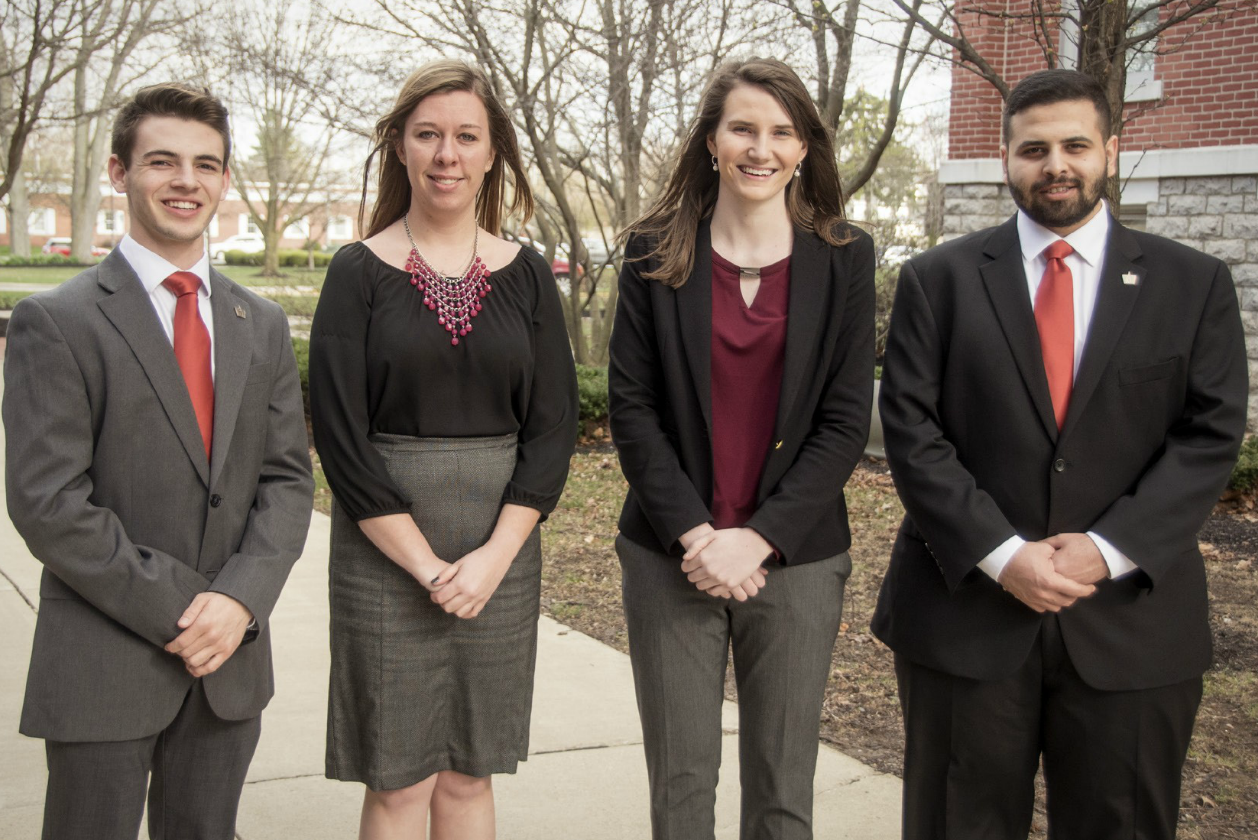 "Grocery shopping is one of those things that you take for granted, but there's so much more to it behind the scenes. That's what really intrigued me. It's something that I'd always been exposed to; I go in every week, but never realized how much went into it," said Adkins, a marketing major.
Professor Stoller and Chris Ward, Ed.D., professor of business, first learned about the competition last year through Eric Anderson, founder of AR Marketing, a local company that works with the National Grocers Association (NGA). Most of the 13 schools competition in the NGA Case Study Competition including Western University, University of Illinois, California Polytechnic State University, Cornell University and others, bring students studying specifically food marketing and retail. Findlay's students, with major's ranging from marketing and finance to sport and event management, found the experience gave them a unique opportunity to exercise the skills they are learning in the classroom, in the real world. Through funding support from AR Marketing, Stoller was able to select students to attend the trade show and compete in a case study challenging the teams to find new and creative ways to reach millennial customers. "The students took responsibility for all aspects of the case from research through implementation steps," said Stoller. "They learned about teamwork as well as presenting to professionals in the industry but most importantly how to network in professional situation."
Marketing and finance major Catherine Schnipke, who also had the opportunity to be a part of UF's team in 2016, said, "The things that we used here will apply to any industry." Though each of the found the experience benefited them in unique ways, they all agree the challenge gave them the chance to explore the industry, use some creativity in the field and find the spirit of competition.
"To have an experimental learning opportunity where you can be submerged in a business setting is very helpful to a business major," said Adkins as he reflected on the entire experience. "To have that experience before leaving college was really helpful to me. We went to a trade show, interacted with different vendors, asked them questions and learned from them. It was really interesting to see how it all comes together."
For the competition, the team presented multiple solutions to improve the grocery shopping experience for millennials to a panel of judges. As millennials themselves, they were able to draw from their own experience in addition to the research. "Initiating new things to attract millennials is a big question in today's world," Schnipke said. Catering to the generation's need for quick convenience, the team came up with a big idea for a store bus implemented by the grocery chain that would travel to key locations to make it easy for millennials to shop with the chain. The bus would travel to universities, inner cities and metropolitan areas where millennials are more likely to work. "Our research said millennials are walking or riding a bike because of the effects of driving on the environment and to avoid spending money on gas. They're also very family oriented, so this would be a real time saver as opposed to walking back and forth across an entire store. We make it convenient which is what millennials crave, but also they're becoming brand loyal without realizing it," said Schnipke.
Though their presentation included multiple solutions to the case, the bus was definitely something unique and creative that we were proud of, we had the chance to literally let our creative juices flow," said Natalie Swift. They also appealed to millennials' interests in healthy eating and brand loyalty by presenting ideas for a rewards program, healthy tags to show customers where to find healthy items and an app that pulled everything together.
"The app would be the connection between the users and all the features the store had," explained finance major Alghuraibi; by combining grocery lists, online orders, sale notifications, recipes, health information and a location tracker for the bus, it would be a key tool for customers.
While Findlay didn't win the competition, the students not only learned from their competitors, but the entire grip gave them opportunities they could not experience in the classroom. From the beginning, Swift thought, "It's a hands-on experience. When am I going to have the chance to do this again? Whether we win or not, we're going to learn a lot from the process and the trip." As a sport and event management major, Swift took a keen interest in the production of the convention. With an interest in becoming a corporate event planner in the trade show area, "I loved being able to see the different workshops, centers, rooms and scheduled and how they came together. I truly enjoyed learning about all the logistics, the details and interacting with customers. It really confirmed where I want to go," she said. Attending the conference also empowered students to network with top executive sin the industry. "You just don't get networking opportunities like that on campus," said Swift. "When you're thrown on the spot like that, you never know who you're going to meet. That was the best part of the trip for me," Swift said.
Swift wasn't the only student to take advantage of the networking environment. Adkins took the opportunity to learn from the people he met based on his own aspirations. "The NGA hosts independent grocers. Those are all flat level organizations. The entrepreneur is really close to what's going on. I had the opportunity to speak with the entrepreneurs, learn from them and talk about their process and struggles. Speaking with entrepreneurs who have had success was inspiring for me as someone who wants to be an entrepreneur one day." Adkins said he spent a half hour with the CEO of Harps Food Stores, a grocery chain in the southern US, learning about pricing strategies.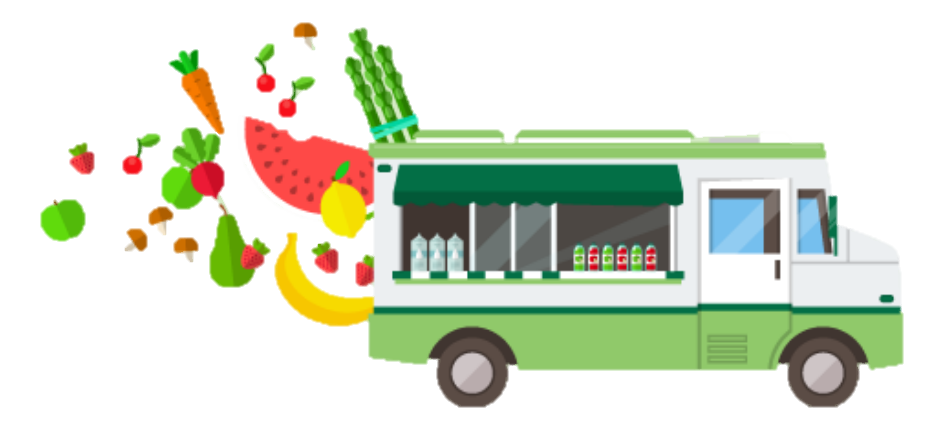 The trip provided the students the opportunity to make connections with model individuals, but additionally they were able to practice their networking skills in a different environment that, for international student Rayan Alghuraibi, took the pressure off the experience altogether. "It's different in Vegas. Businessmen will approach you instead of you going to them. They're the ones who want to network with you, Just being around that environment you can learn a lost. Professor Arburn always invites us to gatherings in Toledo. I always make an excuse, but now I feel like I need to go to one. That environment was great. I loved it!"
Though they had the chance to network at workshops and sessions throughout the conference, students were exposed to a unique environment through attending a private reception hosted by AR Marketing. "There were so many individuals in the grocery industry there, and this was the kind of event that you don't get to learn about in the classroom, because it was all about presenting yourself in a setting that you have to experience to understand," said Schnipke. "It wasn't the standard handshake that we are accustomed to. We were socializing and having a great time, but still we were making valuable connections, just in a non-traditional way. I came home with so many business cards, LinkedIn connections and a larger network."
With this field trip, stepping outside the traditional classroom allowed these students to explore a lasting industry, challenged them to think about reaching a target market and empowered them to network outside their comfort zones, even if the grocery industry isn't where their hearts lie. "Before this trip I didn't have the opportunity to really get to know the other students who went," said Adkins. "It was really fantastic to travel and live with the other students for a few days and have the opportunity to have fun and grow and learn together. We had the opportunity to not only learn but create friendships by going beyond the arch."
To learn more about The NGA Show 2018, click HERE.