The National Grocers Association is actively monitoring the growing spread of the Coronavirus (COVID-19) both internationally and domestically, and the impacts it will have to the independent grocery industry. The U.S. Center for Disease Control and Prevention (CDC) has provided information to help with preparedness planning, and we write to you to make sure that our members are taking the necessary precautions to protect your employees, your customers and the communities you serve.
As additional information becomes available, NGA will continue to keep our members updated on best practices and other precautionary actions that you can take to prepare for the Coronavirus. For more information, please review the following or contact NGA at membership@nationalgrocers.org.
Updated Decision Tool for COVID-19 Case Scenarios 
JDSUPRA: Facing Your Face Mask Duties – a List of Statewide Orders
Governors and public health officials across the country have implemented stringent mitigation measures to help contain the spread of COVID-19. As businesses reopen, face coverings remain popular as a preventative measure. Numerous jurisdictions have encouraged—or mandated—citizens to wear face coverings when out in public, especially when social distancing cannot be maintained effectively. Some directives also obligate employers to provide masks to their employees.
Conn Maciel Carey: How to Navigate the Thorny Legal Landscape Around Employee Vaccination Status (May 24, 2021)
As the number of vaccinated individuals continues to increase and we are seeing a significant decrease in COVID-19 cases, the landscape of legal requirements applicable to employers and employees is changing, particularly related to employees who are fully vaccinated.  Indeed, in an unexpected update to its guidance last week, the CDC stated that fully vaccinated individuals may resume essentially all indoor and outdoor pre-pandemic activities in almost all circumstances.  Although federal agencies such as OSHA and the EEOC have not yet updated their relevant guidance on treatment of vaccinated workers to reflect these changes, they both have stated their intent to address, and in OSHA's case follow, the CDC guidance, and many states are doing the same.
Click here to learn more.
Updated Guidance on Mask Wearing from CDC (May 14, 2021)
Update that fully vaccinated people no longer need to wear a mask or physically distance in any setting, except where required by federal, state, local, tribal, or territorial laws, rules, and regulations, including local business and workplace guidance
Update that fully vaccinated people can refrain from testing following a known exposure unless they are residents or employees of a correctional or detention facility or a homeless shelter
Conn Maciel Carey: CDC Drops Mask and Distancing Requirements for Fully Vaccinated Individuals — What About the Workplace?
List of state health departments for more information on COVID-19 vaccination plans
Vaccine roll-out recommendations
Public Health Recommendations for Fully Vaccinated People (CDC)
If you've been fully vaccinated:
You can resume activities that you did prior to the pandemic.
You can resume activities without wearing a mask or staying 6 feet apart, except where required by federal, state, local, tribal, or territorial laws, rules, and regulations, including local business and workplace guidance.
If you travel in the United States, you do not need to get tested before or after travel or self-quarantine after travel.
You need to pay close attention to the situation at your international destination before traveling outside the United States.

You do NOT need to get tested before leaving the United States unless your destination requires it.
You still need to show a negative test result or documentation of recovery from COVID-19 before boarding an international flight to the United States.
You should still get tested 3-5 days after international travel.
You do NOT need to self-quarantine after arriving in the United States.

If you've been around someone who has COVID-19, you do not need to stay away from others or get tested unless you have symptoms.

However, if you live or work in a correctional or detention facility or a homeless shelter and are around someone who has COVID-19, you should still get tested, even if you don't have symptoms.
Certification of Essential Worker Status for COVID-19 Vaccination (American Bakers Association)
This template of certification is for NGA member companies so that employers can make sure their employees are not turned away when they attempt to get their vaccination. The American Bakers Association has provided a sample certification that can be used by your company to make sure your employees can identify themselves as part of the essential workforce priority group.
White House: Executive Order on Protecting the Federal Workforce and Requiring Mark-Wearing
Important Update: CDC Recommends "Universal Face Mask" Use in COVID Guidance
The Centers for Disease Control in its latest guidance on mitigating the impact of Covid-19 recommends "universal use" of face masks.
Suggests plans at the community level including "mandating universal use of face masks" indoors beyond households
Important Update: COVID-19 Vaccination Program Operational Guidance – The COVID-19 Vaccination Program Interim Operational Guidance for Jurisdiction Playbook
The Interim playbook covers specific areas of COVID-19 vaccination program planning and implementation and provide key guidance documents and links to resources to assist those efforts. Many, but not all, of the COVID-19 Vaccination Program activities described may overlap with routine activities; routine immunization and pandemic influenza program activities can serve as a foundation for COVID-19 vaccination planning.
Update: NGA Supports Effort to Prioritize COVID Vaccinations for Food Industry Workers
On November 11, NGA and other industry organizations sent a letter to President Donald Trump urging the administration to prioritize COVID-19 vaccinations for essential workers in critical infrastructure industries, including those responsible for ensuring the continuity of our nation's food supply.
Our members have been on the front lines of the response to the pandemic to ensure access to safe, nutritious, and affordable food. Prioritizing inoculations for these workers will help keep employees healthy and guarantee supply chain stability. Click here to read the industry's letter to the White House.
King and Spalding: COVID-19 Survey of State Liability Reform
As the country emerges from the COVID-19 pandemic, states are easing restrictions on businesses.  But as employees and consumers return, concerns increase about a wave of tort litigation against businesses already reeling from the economic impact of COVID-19.  Some states have responded by enacting broad liability reforms to protect businesses while other states have declined to act.
Update: CDC Provides Options to Reduce Length of Quarantine after Exposure
The Centers for Disease Control and Prevention (CDC) announced shorter coronavirus-related quarantine periods to make it easier for people to quarantine by reducing economic hardship if they cannot work during this time. The CDC announced two acceptable quarantine periods, though noted that the previously-established 14 days of quarantine is the best way to reduce risk of virus spread. Officials said quarantine can now end after 10 days without a COVID-19 test, if the person reports no symptoms, or after 7 days with a negative test result if the person reports no symptoms.
Important Update: CDC "Close Contact" Redefined to Include 15 Minutes Cumulative
On October 21, the CDC announced a material revision to its definition of "Close Contact."  The new definition makes it explicit that the 15-minute exposure period (i.e., within 6-feet of an infected individual for 15 minutes) should be assessed based on a cumulative amount of time over 24 hours, not just a single, continuous 15-minute interaction. For more information on how this may impact your business operations, please click here (information provided by Conn Maciel Carey LLP).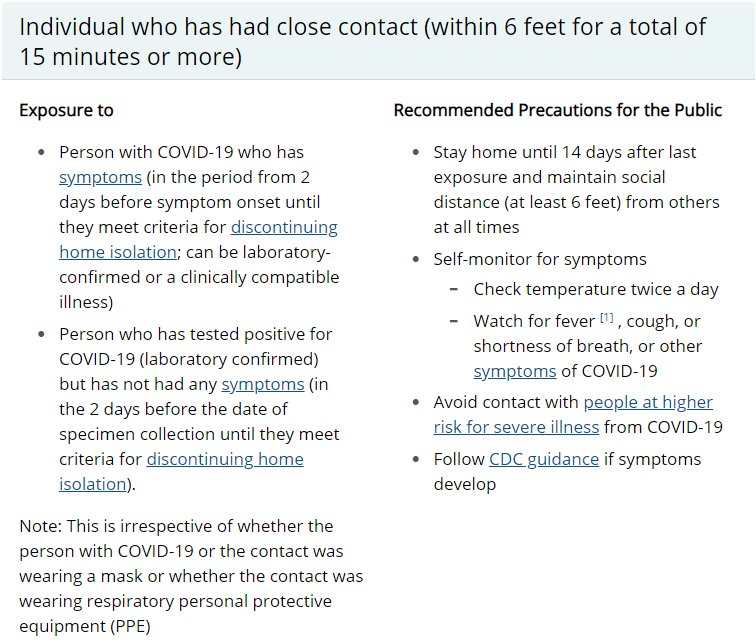 Advocacy Efforts
NGA sent a letter to congressional leadership outlining the top priorities of independent grocers in the upcoming coronavirus relief economic stimulus package: rewarding essential frontline workers, limiting liability exposure of essential businesses and expanding nutritional access for hungry Americans. To learn more about how you can lend your voice to these efforts, please visit grocerstakeaction.org
Member Best Practices
NGA has compiled the following list of common practices that members have shared with us. Remember, communication with your customers and employees is paramount.
Communicate with your customers the steps your business is taking to protect against COVID-19
Educate employees and customers on CDC-recommended hygiene procedures, including considerations of wearing a face mask.
Stay in communication with local and state health officials and make sure your company is receiving regular updates
Some localities may have mask mandates while out in public and these mandates should always be followed
Institute additional mandatory cleaning or sanitizing schedules and directions around stores
Increase or add hand sanitizing stations around your stores for customers and employees
Assign employees to regularly sanitize shopping carts and other high-traffic or high-touch areas
Require any employees who have flu-like symptoms to stay home
Update and communicate your sick leave and paid-time-off policies to your employees regarding COVID-19
Identify hard-to-cover positions and implement cross-training to prepare for coverage issues
Ask customers to implement social distancing (six feet per person) while standing in checkout lines
Consider changing regular store hours to encourage grocery shopping at lower traffic times
Schedule specific hours of operation for vulnerable populations to shop without other customers
Expand remote shopping options if available (click-and-collect, delivery, pick-up, shop-by-phone)
Consider temporarily closing salad bars, buffets, and other ready-to-eat or sample offerings in stores
Institute purchasing limits on high demand items and household staples (toilet paper, hand sanitizer, cleaning products)
This is not an exhaustive list and are only recommendations. Each NGA member must make preparations that best reflect the needs of your individual businesses to protect your employees, your customers and the communities you serve. If you or your company would like to share any helpful practices that your business is undertaking, please contact Robert Yeakel, Director of Government Relations, at ryeakel@nationalgrocers.org.
U.S. Federal and State COVID-19 Policies and Guidance for the Food Industry – Please click here to view a compilation of federal and state legal guidance to navigate relevant COVID-19 prevention requirements.
Public Health Information
About Coronavirus (COVID-19) Disease (CDC)
Coronavirus disease 2019 (COVID-19) is a respiratory illness that can spread from person to person
The first case of COVID-19 in the United States was reported on January 21, 2020
The current count of cases of COVID-19 in the United States is available on CDC's webpage
Patients with COVID-19 have had mild to severe respiratory illness with symptoms of fever, cough, shortness of breath.
Coronavirus Disease 2019 (COVID-19) Prevention (CDC)
Avoid close contact with people who are sick.
Avoid touching your eyes, nose, and mouth.
Stay home when you are sick.
Cover your cough or sneeze with a tissue, then throw the tissue in the trash.
Clean and disinfect frequently touched objects and surfaces using a regular household cleaning spray or wipe.
Wash your hands often with soap and water for at least 20 seconds
If soap and water are not readily available, use an alcohol-based hand sanitizer with at least 60% alcohol.
COVID-19 Vaccine Information (CDC)
CDC Calls on Americans to Wear Masks to Prevent COVID-19 Spread
CDC recommends people age 2 and older should wear masks in public settings and when around people who don't live in their household.​
Safety Practices for Critical Infrastructure Workers Who May Have Had COVID-19 Exposure (CDC)
CDC advises that critical infrastructure workers may be permitted to continue work following potential exposure to COVID-19, provided they remain asymptomatic and additional precautions are implemented to protect them and the community.
Pre-Screen: Employers should measure the employee's temperature and assess symptoms prior to them starting work. Ideally, temperature checks should happen before the individual enters the facility.
Regular Monitoring: As long as the employee doesn't have a temperature or symptoms, they should self-monitor under the supervision of their employer's occupational health program.
Wear a Mask: The employee should wear a face mask at all times while in the workplace for 14 days after last exposure. Employers can issue facemasks or can approve employees' supplied cloth face coverings in the event of shortages.
Social Distance: The employee should maintain 6 feet and practice social distancing as work duties permit in the workplace.
Disinfect and Clean work spaces: Clean and disinfect all areas such as offices, bathrooms, common areas, shared electronic equipment routinely.
EPA's Registered Antimicrobial Products for Use Against Novel Coronavirus SARS-CoV-2, the Cause of COVID-19
CDC: Environmental Cleaning and Disinfection Recommendations
Coronavirus Actions by States: What You Need to Know (National Governors Association)
The National Governors Association has compiled information on what each state is doing to prevent the spread of COVID-19. As state-by-state responses to the pandemic have differed, this website provides helpful links to statewide emergency declarations, travel restrictions, shelter-at-home requests, school and non-essential business closures, and other non-federal actions.
Risk Management and Preparedness
Food Industry Recommended Protocols When Employee/Customer Tests Positive for COVID- 19
Food production facilities, distributors and wholesalers are part of our nation's "critical infrastructure" and must remain operational to feed the country. Inconsistent approaches to reacting to an employee who tests positive for COVID-19 has the potential to jeopardize our food system. This document recommends a consistent approach in how a company can continue operations in the event an individual has tested positive, given the global COVID-19 pandemic and high transmissibility of this respiratory virus from person to person.
Covid-19 Employee Symptoms/Testing Status-Based Decision Tool For Food Facilities
Coronavirus Preparedness Checklist (FMI)
Identify and Contact local health and agriculture officials
Develop an infectious disease prevention strategy
Food Safety
Food Safety and the Coronavirus Disease 2019 (COVID-19)
These resources are available to industry members and consumers on Coronavirus Disease 2019 (COVID-19) and food safety.
FNS Program Guidance on Human Pandemic Response
The U.S. Department of Health and Human Services (HHS) is the lead federal agency for federal pandemic response. Federal interagency partners support HHS, as requested, to assist state, local, tribal, and territorial partners in their pandemic preparedness and response activities. In some cases, responding to a public health emergency such as a human pandemic will require social distancing by keeping people from gathering in groups, including keeping children home from school and childcare in order to slow the spread of an infection.
Food Products: Coronavirus Disease 2019 (COVID-19) Frequently Asked Questions (FDA)
Q: Should food facilities (grocery stores, manufacturing facilities, restaurants, etc.) perform any special cleaning or sanitation procedures for COVID-19?
A: CDC recommends routine cleaning of all frequently touched surfaces in the workplace, such as workstations, countertops, and doorknobs. Use the cleaning agents that are usually used in these areas and follow the directions on the label. CDC does not recommend any additional disinfection beyond routine cleaning at this time. Restaurants and retail food establishments are regulated at the state and local level. State, local, and tribal regulators use the Food Code published by the FDA to develop or update their own food safety rules. Generally, FDA-regulated food manufacturers are required to maintain clean facilities, including, as appropriate, clean and sanitized food contact surfaces, and to have food safety plans in place.   Food safety plans include a hazards analysis and risk-based preventive controls and include procedures for maintaining clean and sanitized facilities and food contact surfaces.
Q: Is food imported to the United States from China and other countries affected by coronavirus disease 2019 (COVID-19), at risk of spreading COVID-19?
A: Currently, there is no evidence to support transmission of COVID-19 associated with imported goods and there are no reported cases of COVID-19 in the United States associated with imported goods.
Q: Are food products produced in the United States a risk for the spread of COVID-19?
A: There is no evidence to suggest that food produced in the United States can transmit COVID-19.
Q: Can I get sick with COVID-19 from touching food, the food packaging, or food contact surfaces, if the coronavirus was present on it?
A: Currently there is no evidence of food or food packaging being associated with transmission of COVID-19.  Like other viruses, it is possible that the virus that causes COVID-19 can survive on surfaces or objects. For that reason, it is critical to follow the 4 key steps of food safety—clean, separate, cook, and chill.
Q: Can I get COVID-19 from a food worker handling my food?
A: Currently, there is no evidence of food or food packaging being associated with transmission of COVID-19. However, the virus that causes COVID-19 is spreading from person-to-person in some communities in the U.S. The CDC recommends that if you are sick, stay home until you are better and no longer pose a risk of infecting others. Anyone handling, preparing and serving food should always follow safe food handling procedures, such as washing hands and surfaces often.
SNAP Updates
*Federal Nutrition Program Updates
USDA FNS is continuing to approve States' plans to issue SNAP emergency allotments. Click here for a spreadsheet containing issuance schedules and P-EBT Approvals SY 20-21 for the Pandemic-EBT program that have been approved by FNS for School Year 2020-2021.
Online Purchasing for Retailers – Technical Questions and Answers
Retailer Requirements to Provide Online Purchasing to SNAP Households
Employment and Labor
Department of Labor: COVID-19 and the Workplace
The Wage and Hour Division provides information on common issues employers and employees face when responding to COVID-19, and its effects on wages and hours worked  under the Fair Labor Standards Act and job-protected leave under the Family and Medical Leave Act.
What Employers Need to Know About Mandatory COVID-19 Vaccines (Conn Maciel Carey LLP)
With the availability of a safe, effective COVID-19 vaccine, employers understandably have a number of questions regarding their role in the workplace – whether and when they can require a vaccination, what exceptions are required in a mandatory vaccination program, and whether they should require (as opposed to encourage and facilitate) the COVID-19 vaccine for employees now that vaccines are available
What You Should Know About COVID-19, the Americans with Disabilities Act, and the Age Discrimination in Employment Act (Conn Maciel Carey LLP)
Employers continue to grapple with how to keep employees safe without violating the rights of employees protected by the Americans with Disabilities Act ("ADA") and the Age Discrimination in Employment Act ("ADEA"). Employers should remain vigilant against enacting policies meant to keep employees safe but have a disparate impact on employees in a protected class.
Equal Employment Opportunity Commission Provides Guidance on What Actions Employers May Take to Address the Impact of COVID-19
The EEOC has provided guidance, consistent with workplace protections and rules, that can help employers implement strategies to navigate the impact of COVID-19 in the workplace. Employers should remember that guidance from public health authorities is likely to change as the COVID-19 pandemic evolves. Therefore, employers should continue to follow the most current information on maintaining workplace safety.
COVID-19-Related Tax Credits for Required Paid Leave Provided by Small and Midsize Businesses FAQs
Resources for Workers and Employers on COVID-19 (OSHA)
OSHA standards and directives (instructions for compliance officers) and other related information that may apply to worker exposure to novel coronavirus, COVID-19. There is no specific OSHA standard covering COVID-19. However, some OSHA requirements may apply to preventing occupational exposure to COVID-19.
How Employers Can Respond to Coronavirus (Conn Maciel Carey LLP)
Employers are encouraged to communicate with their employees about COVID-19 to educate them about the virus, and where they may be able to find resources to protect themselves
For those employers that do not already have protocols on how to respond to infectious diseases, the development of such procedures is highly encouraged (view a sample Standard Operating Procedure for Infectious Disease)
Employers need to be extremely cautious about sharing any health information related to COVID-19 diagnosis.
Employers should proscribe to a general prohibition against sharing information about an employee's health condition with managers, supervisors, and other employees
If an employee is on a leave of absence associated with coronavirus, however, employers can notify managers, supervisors, and other employees that an employee (but not who) is on a leave of absence that is non-disciplinary in nature
Employers are also encouraged to review their remote work and telework policies, and to promptly address any leave or accommodation requests from employees
Employers should continue to monitor the information and recommendations from the CDC, OSHA, the State Department, and other federal, state, and local government agencies involved in the response.
Retail Workers and Employers in Critical and High Customer-Volume Environments
This section provides guidance for workers and employers involved in retail operations that remain open during the COVID-19 pandemic, particularly those operations with high customer volumes and in critical sectors. This includes retail pharmacies and drug stores, grocery stores, and other entities that sell essential supplies. This guidance supplements the general interim guidance for workers and employers of workers at increased risk of occupational exposure to SARS-CoV-2.
State OSHA Plans and Workplace Guidance for COVID-19
Many states have implemented local and state-level COVID-19 standards that supersede federal OSHA guidance. Please make sure that your business is complying with all local and state COVID-19 requirements in addition to federal guidance.
Families First Coronavirus Response Act: Employer Paid Leave Requirements (DOL)
The Families First Coronavirus Response Act (FFCRA or Act) requires certain employers to provide their employees with paid sick or family leave for specified reasons related to COVID-19. The Department of Labor's Wage and Hour Division (WHD) administers and enforces the new law's paid leave requirements. These provisions will apply from the effective date through December 31, 2020.
Transportation and Supply Chain
Hours of Service Relief for Commercial Vehicle Drivers: Federal Motor Carrier Safety Administration Emergency Declaration (FMCSA)
The U.S. Department of Transportation's Federal Motor Carrier Safety Administration (FMCSA) issued a national emergency declaration to provide hours-of-service regulatory relief to commercial vehicle drivers transporting emergency relief in response to the nationwide Coronavirus (COVID-19) outbreak.
American Trucking Associations: State by State Declarations and Waivers
The ATA has provided a repository for both federal and state declarations and waivers relating to supply chain and transportation. Their COVID-19 Update Hub will provide industry stakeholders with timely, fact-based information to answer frequently asked questions and address common transportation challenges that arise from the pandemic and national response.
Guidance on the Essential Critical Infrastructure Workforce (CISA)
The Cybersecurity and Infrastructure Security Agency (CISA) executes the Secretary of Homeland Security's authorities to secure critical infrastructure. Consistent with these authorities, CISA has developed, in collaboration with other federal agencies, State and local governments, and the private sector, an "Essential Critical Infrastructure Workforce" advisory list. This list is intended to help State, local, tribal and territorial officials as they work to protect their communities, while ensuring continuity of functions critical to public health and safety, as well as economic and national security.
Supply Chain Resources
NGA has received inquiries from suppliers, vendors, and distributors throughout the food supply chain that would like to offer services to grocers and wholesalers. We are currently cataloging these inquiries and sharing with our members in an effort to facilitate mutually beneficial connections during this unprecedented situation. To be included in this effort, please click HERE to fill out the form.
Connect with suppliers and buyers on Repositrak's B2B e-commerce platform, MarketPlace at: https://repositrak.com/marketplace.
Resources for Small and Medium Sized Businesses
Coronavirus (COVID-19): Small Business Guidance & Loan Resources
The U.S. Small Business Administration is offering various grants, loans, and aid to small businesses suffering economic difficulties as a result of the Coronavirus (COVID-19).
Economic Injury Disaster Loans and Loan Advance
In response to the Coronavirus (COVID-19) pandemic, small business owners in all U.S. states, Washington D.C., and territories are eligible to apply for an Economic Injury Disaster Loan advance of up to $10,000. The SBA's Economic Injury Disaster Loan program provides small businesses with working capital loans of up to $2 million that can provide vital economic support to small businesses to help overcome the temporary loss of revenue they are experiencing. The loan advance will provide economic relief to businesses that are currently experiencing a temporary loss of revenue. Funds will be made available within three days of a successful application, and this loan advance will not have to be repaid.
SBA provides a number of loan resources for small businesses to utilize when operating their business.
7(a) program offers loan amounts up to $5,000,000 and is an all-inclusive loan program deployed by lending partners for eligible small businesses within the U.S. States and its territories. The uses of proceeds include: working capital; expansion/renovation; new construction; purchase of land or buildings; purchase of equipment, fixtures; lease-hold improvements; refinancing debt for compelling reasons; seasonal line of credit; inventory; or starting a business.
Express loan program provides loans up to $350,000 for no more than 7 years with an option to revolve. There is a turnaround time of 36 hours for approval or denial of a completed application. The uses of proceeds are the same as the standard 7(a) loan.
Community Advantage loan pilot program allows mission-based lenders to assist small businesses in underserved markets with a maximum loan size of $250,000. The uses of proceeds are the same as the standard 7(a) loan.
504 loan program is designed to foster economic development and job creation and/or retention. The eligible use of proceeds is limited to the acquisition or eligible refinance of fixed assets.
Microloan program involves making loans through nonprofit lending organizations to underserved markets. Authorized use of loan proceeds includes working capital, supplies, machinery & equipment, and fixtures (does not include real estate). The maximum loan amount is $50,000 with the average loan size of $14,000.